then, Jan 28th i will be playing Plymouth.
Then…
Tonight, June 2nd, about 7pm…i am doing a UK Pun off…via Zoom. here's a link-
https://l.facebook.com/l.php?u=https%3A%2F%2Ffb.me%2Fe%2F2rwBxfHV7&h=AT1_se46Rc0mrovOmSgG_5WeRHkFZLOgyl3pYCVW9RQMhrzfSZziv2os8-JA86IXDNe8oFEcoEIDg_IgiAMXUnf29448M4dWQu6lA0PhIUc2KZ9gBE3bTcBxgueBUMCP-XR5Og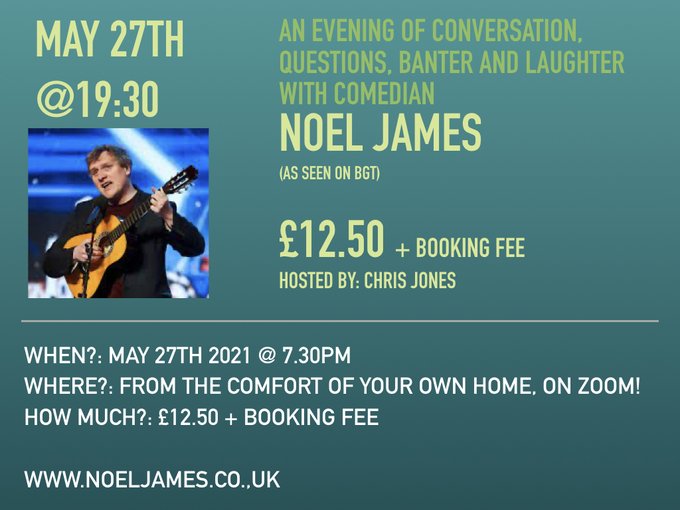 on May 27th at 7.30pm.
go to :
https://www.eventbrite.co.uk/e/a-night-of-conversation-laughter-with-comedian-noel-james-tickets-153191418657?aff=estw&utm-campaign=social&utm-content=attendeeshare&utm-medium=discovery&utm-source=tw&utm-term=checkoutwidget
this is happening tomorrow, Sunday (or Punday) 21st Feb…
comedy shows? still none happening.
i mention a potential gig in Dublin – below – that was moved to the end of this February. but who knows?? and and anyway i'll probably need a fuckin visa or some such crap, now that Brexit's happened. In other words things are still up in the air, and any shows abroad are no doubt gonna get harder to get.
Oh yes, and that live album i mention…if you want a copy just email me via this website!
August 13th 2020.
I don't have any gigs to report. They've been cancelled left, right and centre, OR, if you want to get political about it, left, right centre, and centre left.
I was booked to go to Laughter Lounge, Dublin this month, but that was pulled because of covid. The booker got back to me though and rebooked it for February 25th 2010, Ireland…always something to look forward to.
Soon i will have a live stand up album availbale on JokePit website…Llive @ Llanelli…
This St Davids Day, in Swansea, a show in Welsh…
last Tuesday i did a gig in Monmouth – a place i have rarely if ever visited, land of the Monnow river and Monnow-glot Welsh….While the gig was tiny and quite dark (literally)…the middle section was definitely worth seeing: a robot. Yes, a man came to do a talk about his homemade robot which had occupied him for months. The robot was present and correct.
MEANWHILE: this is happening end of this month: July 2019
Meanwhile….
This Sunday, 16th June I will be in Ilkley Moor. A legendary place i have only heard about in songs
May 31st – tomorrow – i got a gig near Carmarthen, it's for charity – but is sold out. ooohh matron.
I had 35 punters in to see this show at my 'local', the Grand Theatre Swansea. That sound bad? it was a good show, especially when compared with Aberystwyth the month before…7 punters came to that !!! It's great being a big name
Thursday April 18th, at Aberystwyth Arts Centre…this:
__________________________________________________________________
---
---
Also check Noel's page on Ents24 for more information.